Niseko Access & Transfers
Accessing Niseko & the wider area has never been easier
Niseko & Chalet Ivy Hirafu is within easy access to New Chitose International Airport, along with some of Japan's most culturally celebrated areas including Sapporo & Otaru, as well as a range of other smaller resorts.
We can assist to arrange for private transfer to and from the airport, please click here to ensure the smoothest of travel.
For bus transfers, please book directly through the links on this page.
Niseko is a 2 hour drive from the areas closest airport, New Chitose International Airport, and Sapporo city, Hokkaido's lively capital and a renowned cultural hot spot. The area is accessible via train & bus throughout all seasons, connecting the area directly with Otaru, Sapporo & New Chitose International Airport.
Chalet Ivy Hirafu strongly recommends avoiding driving a private or rental vehicle during the winter months given the heavy snow the region experiences.
Private Transfers
Private Transfers are the most convenient and comfortable way to get around in and out of the Niseko area. Chalet Ivy Hirafu can assist in booking private transfers between New Chitose International Airport, Sapporo and our hotel.
Book Private Transfers With Us
Other Transfers
Niseko is conveniently accessible by bus & train throughout the year, connecting the area to other major destinations in Hokkaido. You can use the links below to plan your transfers, though please note Chalet Ivy Hirafu is unable to assist in reservations, arrangements & the accuracy or information for the public transport options below.
Please also note the availability of winter bus schedules varies and are usually available for booking in October / November depending on the bus companies.
Free Ski Shuttle Bus
We have a variety of shuttle bus services for your convenience during your stay.
Ski Shuttle Bus (December 1 to March 31)
Offers round trip transport between the Hotel and Ski Area
(Destinations: Directly opposite to Dot Base and Gondola)/Service hours: 8:30 a.m. to 5:00 p.m.)
Operation: 0830 – 1700
The Ski Shuttle takes you to the Pick up lane in Hirafu Parking #1 (Directly opposite to Dot Base) and Gondola.
Please call 0136-22-1123 to be picked up.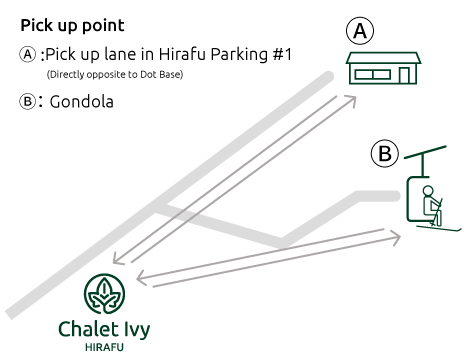 Kutchan Shuttle Bus
Dec 15 – Mar 15 only
Chalet Ivy Hirafu guests only, reservation required.
Kutchan town center is a 10 to 20-minute drive from Chalet Ivy Hirafu. In addition to the Kutchan JR train station there are a variety of restaurants, supermarkets and other stores for groceries and basic necessities.
Our bus makes designated stops at convenience stores and supermarkets via its circular route between Kutchan and Hirafu.
Pick up & Drop off service: Welcome Center and JR Station
We can pick up and drop off at these key locations:
Welcome Center
– 0900 to 2100 (Jan to Mar & Dec only)
– 0900 to 1800 (Apr to Nov only)
JR Kutchan Station
– 0900 to 1800
A reservation is required for the above pick up service. Please make your reservation one day before by 1700.